10/100/1000Base-TX to 100/1000Base-X SFP Industrial Media Converter
Model: RP-IMC801FP
Dual 12V-56VDC Redundant Power Input
Link Fault Pass-Through (LFP) Support
Automatic Switch Mode and Converter Mode
Configurable SFP Speed: 100M or 1000M
Surge Protection for Power Input
ESD Protection on RJ-45 Port
Far End Fault Function on FX Port
Provides increased Noise Immunity
Wide Operating Temperature Range: -40°C to 75°C
RP-IMC801FP stands as an Industrial Converter that excels in delivering superior performance, especially in terms of stability and environmental adaptability. This converter is equipped with a 10/100/1000BASE-T RJ45 copper port and a slot designed for a 100/1000BASE-X SFP module, offering versatile connectivity options to accommodate various network devices. Designed with Security, Transportation, and Telco applications in mind, the RP-IMC801FP is a reliable solution for extending network distances. It operates effectively in critical environments, making it well-suited for IP surveillance, traffic monitoring, and other security-related applications.
 RP-IMC801FP offers a wide range of power options, supporting VDC input ranging from 12V to 56VDC. This adaptability enhances its versatility and ensures efficient power supply in diverse scenarios. Operating within a temperature range of -40 to 75°C, the RP-IMC801FP is engineered to withstand harsh environmental conditions. This robust performance ensures a reliable network operation even in challenging environments with extreme temperature variations.
The converter's IP30 industrial case protection provides a high level of immunity against corrosion and electromagnetic interference, contributing to its durability and stability. Furthermore, RP-IMC801FP supports flexible installation options, allowing either DIN rail or wall mounting. This feature optimizes cabinet space utilization, providing a convenient and efficient deployment solution for various industrial setups. With its combination of robust performance, adaptability, and space-efficient design, the RP-IMC801FP emerges as a valuable asset for critical applications requiring dependable network performance in demanding environments.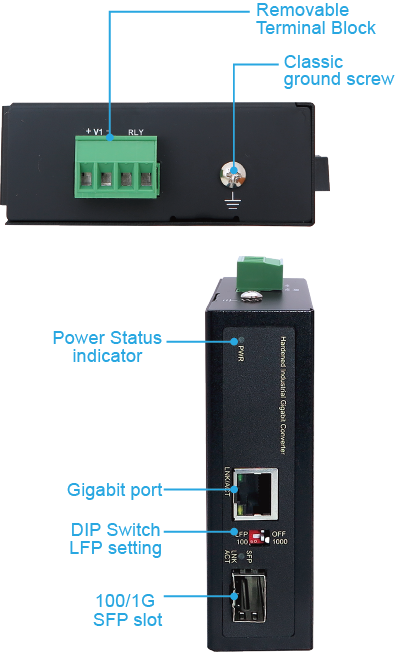 | | |
| --- | --- |
| RP-IMC801FP  | 10/100/1000Base-TX to 100/1000Base-X SFP Industrial Media Converter |