10/100/1000Base-T to SFP Gigabit PoE+ Media Converter
Model: RP-130GPFPA
IEEE 802.3ab 1000Base-T Gbit/s Ethernet over twisted pair

IEEE 802.3z 1000Base-X Gbit/s Ethernet over Fiber-Optic

IEEE 802.3at max. 30W Power over Ethernet

DIP Switch to Set Configurations:

PoE/PoE DIS: PoE Enable (Default) or Disable

LFP/LFP DIS: LFP Enabled (Default) or Disabled

Normal/Cut-through: Normal is Bridge Mode (Default) or Cut-through Mode

Supports Jumbo frame16KB

Wall Mount Mounting Type
RP-130GPFPA is a versatile media converter designed to seamlessly connect 10/100/1000Base-T and 100/1000Base-SX/LX (SFP) GbE network segments. It not only supports high-speed data transmission but also complies with the IEEE802.3at Power Over Ethernet (PoE) standard. With its integrated PoE-enabled RJ45 port (up to 30W) and a GbE SFP port, it offers a flexible and cost-effective solution for network connectivity. 
Equipped with over-current protection, under-current detection, and fault protection input, the RP-130GPFPA ensures reliable and secure operation. Its Link Fault Pass-through (LFP) feature allows the media converter to monitor both the fiber and copper RX ports for any loss of signal, enabling prompt troubleshooting and maintenance.
RP-130GPFPA goes beyond traditional media converters by offering PoE powering capabilities. This feature eliminates the need for additional power cables and provides seamless integration with various PoE Powered Devices (PD), including IP phones, IP cameras, and WiFi access points. Its high hardware performance and environmental flexibility make it an excellent choice for a wide range of Ethernet applications, ensuring reliable and efficient connectivity in diverse network environments.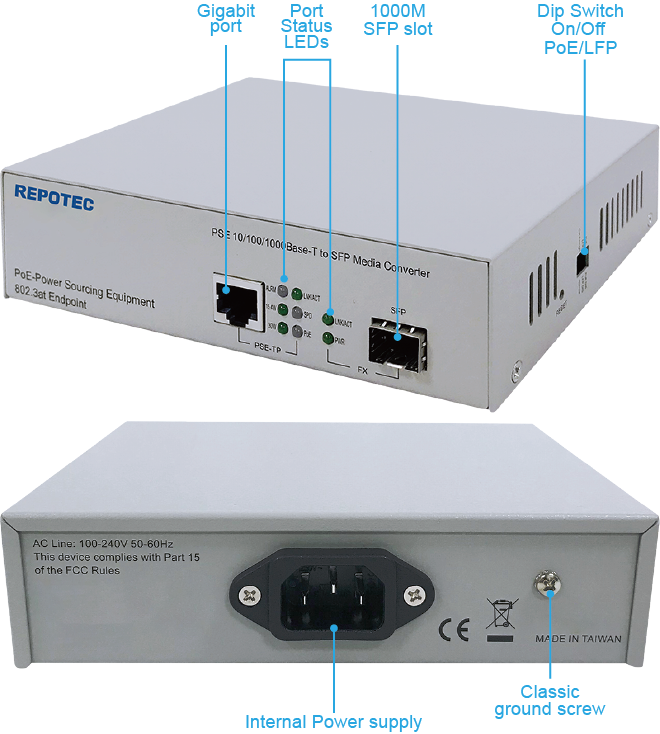 | | |
| --- | --- |
| RP-130GPFPA | 10/100/1000Base-T to 100/1000X SFP Gigabit PoE+ Media Converter |