5-P 10/100TX Industrial Ethernet Switch
Model: RP-ISF500
Multiple voltage power supply options (12-56VDC)

Efficient data transmission (1.0Gbps backplane)

1M memory buffer, 1K MAC Address Table

Power polarity reverse protection

Overload current re-settable fuse

Versatile and reliable for demanding environments

IP-30 protected compact metal case

Easy DIN rail or wall mount installation

Wide temperature range (-40℃ to 75℃)
RP-ISF500 is a cost-efficient 5-port 10/100TX Industrial Switch designed for high reliability industrial applications. Equipped with a wide range of voltage power supply options (12 to 56VDC), the RP-ISF500 ensures the safety and reliability of connected equipment by protecting against unregulated voltage fluctuations.
RP-ISF500 includes a 1M memory buffer, a 1K MAC Address Table, and additional protection features like power polarity reverse protection and an overload current re-settable fuse.  Its IP-30 standard compact metal case provides excellent protection, and it can be easily mounted on either a DIN rail or a wall, optimizing the use of cabinet space.
RP-ISF500 is a versatile and reliable industrial switch, It is suitable for factory assembly lines, automation, IP surveillance, and traffic monitoring, as well as surveillance purposes in vehicles. With an operating temperature range of -40°C to 75°C, it is ideal for challenging environments.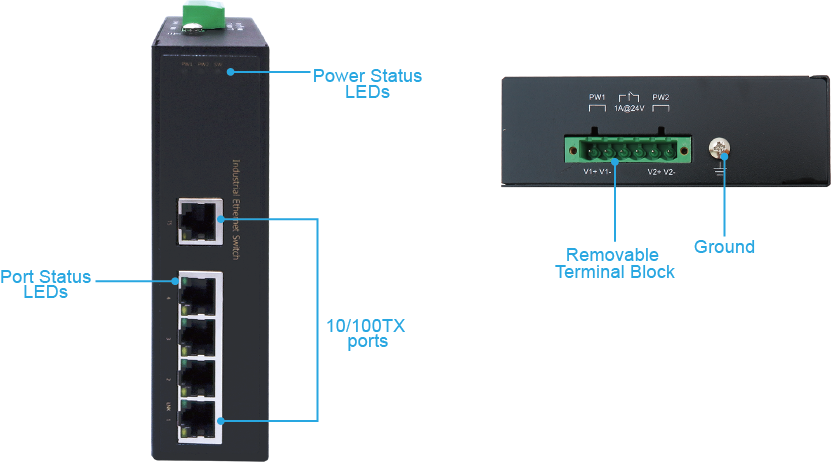 | | |
| --- | --- |
| RP-ISF500  | 5 10/100TX Industrial Ethernet Switch |