60W Industrial Gigabit PoE+ Injector
Model: RP-IPJ811-60W
One 10/100/1000 Data Port for Switch connection
One 10/100/1000 PoE Port for PD connection
Built-in hardened POE Controller
Selectable Mode A End-Span or Mode B Mid-Span
Selectable power output for 30W or 60W
Selectable Mode for standard POE or ultra POE
Deliver ultra high power up to 60Watts
Maximum POE power 72watts at 48VDC input
Support redundant power
Reverse polarity protection
Overload current protection
The RP-IPJ811-60W a high power single port Industrial POE Injector provides PoE power budget up to 60W.  The device supports 10/100/1000Mbps data transmission and is powered with 48-56 Volts DC.
The built-in 4 pin DIP switches are able to select POE for Mode A or Mode B, to select standard IEEE802.3at 30Watts or high power 36Watts, and to select 2 pair or 4 pair for 30/36Watts or 60/72Watts power output. This is possible through the use of all four pairs of twisted-pair cables.
RP-IPJ811-60W is well suited for applications in deploying IP surveillance, traffic monitoring and for a broad range of applications. It is being rigorously tested for your Security, Transportation and Telco application in climatically demanding environments with wide temperature range from -40 to 75°C. With IP30 industrial case protection, the device provides a high level of immunity against corrosion and electromagnetic interference.  RP-IPJ811-60W also allows either DIN rail or wall mounting for efficient use of cabinet.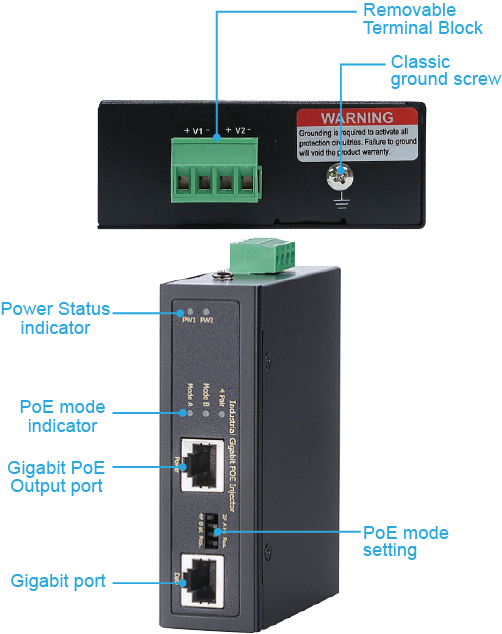 | | |
| --- | --- |
| RP-IPJ811-60W  | 60W Industrial Gigabit PoE+ Injector, 48-56VDC |