30W Industrial Gigabit PoE+ Injector
Model: RP-IPJ811
One 10/100/1000 Data Port for Switch connection
One 10/100/1000 PoE Port for PD connection
Built-in hardened POE Controller
Supports 802.3af /802.3at PoE Power
Support redundant power
Reverse polarity protection
Overload current protection
IP30 Rugged Aluminum housing design
Working in extreme environment -40 to +75°C
RP-IPJ811 represents a robust Industrial Gigabit PoE+ Injector, offering a substantial PoE power budget of up to 30W. With support for data transmission at 10/100/1000Mbps and a power input ranging from 48 to 56 Volts DC, this device is engineered to handle the demands of modern network installations. It's a versatile solution, ideal for deploying IP surveillance, traffic monitoring, and an array of applications requiring both data connectivity and power supply. The device's capabilities make it an excellent fit for diverse industries, where reliable and efficient network infrastructure is essential.
In terms of resilience, RP-IPJ811 doesn't disappoint. It undergoes rigorous testing, particularly in Security, Transportation, and Telco applications, ensuring it can perform under climatically demanding conditions. Operating flawlessly in a wide temperature range from -40°C to 75°C, it demonstrates its ability to function in extreme environments. The IP30 industrial case protection further enhances its durability, providing immunity against both corrosion and electromagnetic interference. This level of protection is crucial, particularly in settings where equipment longevity and consistent performance are critical.
RP-IPJ811 offers a pragmatic design that suits various installation scenarios. It supports both DIN rail and wall mounting options, allowing for efficient utilization of cabinet space. This adaptability is a key feature, providing flexibility to network administrators and installers as they optimize the layout of their network equipment. Whether the need is to conserve space, enable rapid setup, or streamline cable management, the RP-IPJ811's installation versatility makes it a practical and user-friendly choice for industrial network deployments.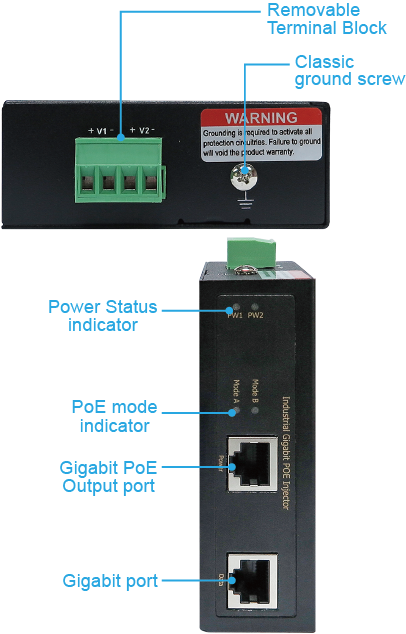 | | |
| --- | --- |
| RP-IPJ811 | 30W Industrial Gigabit PoE+ Injector, 48-56VDC |