10/100/1000Base-TX to 100/1000Base-X SFP Industrial PoE+ Media Converter
Model: RP-IMC811FP
Dual 48V-56VDC Redundant Power Input
Adjustable SFP Speed: 100M or 1000M
30W PoE Output Power
Reverse Polarity Protection
Overload Current Protection
ESD Protection on RJ-45 Port
2K MAC Address Table
9KB Jumbo Frame Support
Rugged Aluminum IP30 Enclosure
Operating Temperature: -40°C to +75°C
RP-IMC811FP is a high-performing Industrial PoE Converter renowned for its stability and exceptional environmental adaptability. It is equipped with one 10/100/1000BASE-T RJ45 copper port and an additional slot for a 100/1000BASE-X SFP module, enabling versatile connectivity options for a range of network devices. This converter fully adheres to IEEE 802.3af/at standards, ensuring a PoE power budget of up to 30W. Its Cold-Design feature not only efficiently powers PD (Powered Device) equipment but also minimizes excessive heat generation, contributing to both power efficiency and device longevity.
RP-IMC811FP is engineered to withstand the harshest conditions. Its operating temperature range spanning from -40 to 75°C ensures its robustness in challenging environments. This adaptability makes the RP-IMC811FP a reliable solution for a wide array of applications, even in demanding settings with extreme temperature variations. Its IP30 industrial case protection further enhances its resilience by providing a high level of immunity against corrosion and electromagnetic interference. Additionally, the converter offers the flexibility of either DIN rail or wall mounting, ensuring efficient utilization of cabinet space, which is particularly valuable in industrial deployments.
RP-IMC811FP stands as a versatile and robust solution, combining adherence to PoE standards, a wide temperature tolerance, and industrial-grade protection. Its ability to operate in demanding environments while maintaining power efficiency and versatility in installation makes it an attractive choice for various critical applications where performance and reliability are paramount.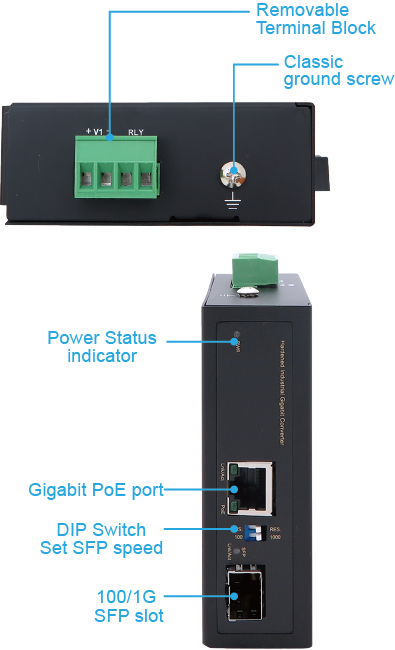 | | |
| --- | --- |
| RP-IMC811FP | 10/100/1000Base-TX to 100/1000Base-X SFP Industrial PoE+ Media Converter (30W) |