10/100Base-TX to 100Base-FX Industrial Media Converter
Model: RP-IMC601SC | RP-IMC601FP
Supports 18V-36VAC/12V-56VDC/ or DC Jack socket
Supports Link Fault Pass through (LFP) function
Supports Switch/Converter Modes
Surge protection on power input
ESD protection diodes on RJ-45 port
Provides Far End Fault function on FX port.
Provides increased Noise Immunity
-40°C to 75°C environmental operation
Mini Rugged Design: 58x36x49mm
RP-IMC601FP is a versatile 10/100Base-TX to 100Base-FX SFP Industrial Media Converter, designed to address the unique challenges of outdoor environments with limited space, making it an excellent fit for outdoor CAM enclosures. This compact yet powerful media converter can be powered by a wide range of sources, including VAC, VDC, or an external DC power adapter, supporting a broad voltage range from 18V to 36VAC or 12V to 56VDC. This flexibility ensures that it can adapt to different power supply scenarios, enhancing its usefulness in diverse setups.
The adaptable design of the RP-IMC601FP extends beyond its power options. It can be conveniently utilized with either a Din-Rail or wall-mounted installation, providing installation flexibility based on the specific requirements of the environment. This multipurpose approach makes it an ideal choice for IP surveillance, traffic monitoring, and security applications, particularly in critical environments. Furthermore, its resilience is remarkable, withstanding a wide temperature range from -40°C to 75°C, making it reliable even in harsh conditions, where consistent network performance is crucial.
RP-IMC601FP represents a compact powerhouse in the realm of industrial media converters. Its ability to handle challenging outdoor conditions, coupled with its flexible power options and installation choices, positions it as a reliable and adaptable solution for various critical applications.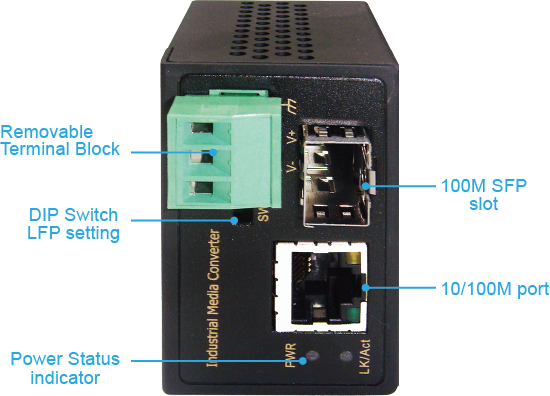 | | |
| --- | --- |
| RP-IMC601FP | 10/100Base-TX to 100Base-X SFP Industrial Media Converter |
| RP-IMC601SC | 10/100Base-TX to 100Base-FX Industrial Media Converter, Multi-mode, 2km/1310nm, SC connector |
| RP-IMC601C30 | 10/100Base-TX to 100Base-FX Industrial Media Converter, Single-mode, 30km/1310nm, SC connector |