24-P + 2-SFP slot Gigabit Ethernet Switch
Model: RP-G2602D
24 ports gigabit non-blocking switch architecture.
2 SFP ports for optional fiber connection
Push ON/OFF button to enable/disable IEEE802.3az
N-Way protocol for auto-detecting speed ) and duplex mode  supported
Supports MDI/MDI-X auto crossover and polarity correction
Back-pressure (half duplex) and flow control supported
Architectural filtering omits fragmented & CRC error packets
Supports 10K bytes jumbo frame
Supports IEEE 802.3az Energy Efficient Ethernet
Rack mountable
RP-G2602D is a reliable and high-performance Gigabit Ethernet switch which provides 24 10/100/1000Mbps Gigabit ports and 2 SFP slot long-distance Fiber Uplink
With its real Gigabit connection, users can transfer large and high-bandwidth files quickly, leading to a significant improvement in efficiency.
RP-G2602D is easy to install and maintain with its support for N-Way auto-negotiation protocol, which automatically detects the networking speed and duplex modes for immediate adjustments to advance the capability and performance. RP-G2602D features rich diagnostic LEDs that provide users with real-time information on the connection status, enabling quick response and correction.
RP-G2602D offers a cost-effective and reliable solution for expanding your network, with its powerful features and user-friendly design. The switch's high-performance capabilities and ease of use make it an ideal choice for small and medium-sized businesses that require fast and efficient network connectivity.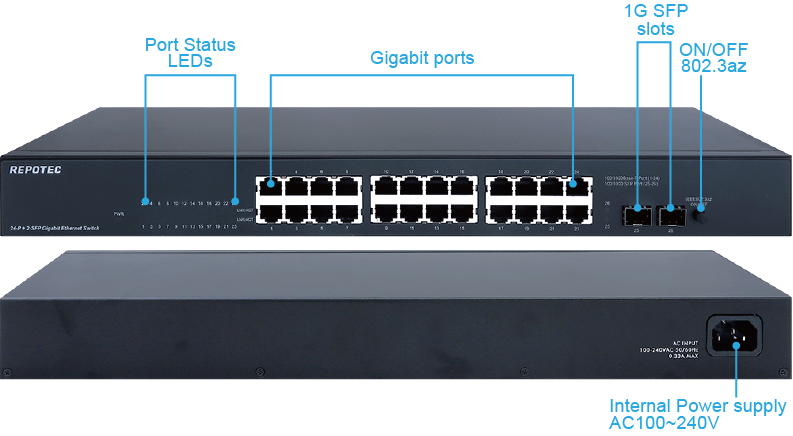 | | |
| --- | --- |
| RP-G2602D  | 24-P + 2-SFP slot Gigabit Ethernet Switch |