8-P Gigabit Ethernet Switch with Loop Detection + QoS
Supports MDI/MDI-X auto crossover
Supports full and half duplex operation.
Supports IEEE 802.3x back-pressure & flow control.
Wire-speed packet filtering and forwarding rate
Architectural filtering omits fragmented & CRC error packets.
256KBytes buffer memory
9K Byte Jumbo frame
Extensive LED indicators for network diagnostics
Supports Loop Detection
Supports 802.1p QoS 4 priority queues
Support Green Ethernet.
Supports IEEE802.3az Energy Efficient Ethernet
RP-G3800Q is a high-performance Gigabit Ethernet switch with eight 10/100/1000 Mbps ports which provides a true gigabit connection. It features a non-blocking switching architecture that filters and forwards packets at full wire-speed for maximum throughput, and supports 802.3x flow control frames for full-duplex and optional back pressure for half-duplex.
RP-G3800Q features a Loop Detection LED caution light, which helps network administrators optimize network configurations. It supports QoS 4 priority queues and utilizes QoS mechanisms to optimize network usage. With front-panel diagnostic LEDs make RP-G3800Q easy to monitor the operating status of individual ports and the entire system.
With its high-performance capabilities, comprehensive diagnostic display, and energy-efficient features, RP-G3800Q is an excellent choice for various networking applications. It delivers maximum throughput and reliability, making it ideal for organizations seeking fast and reliable network connectivity.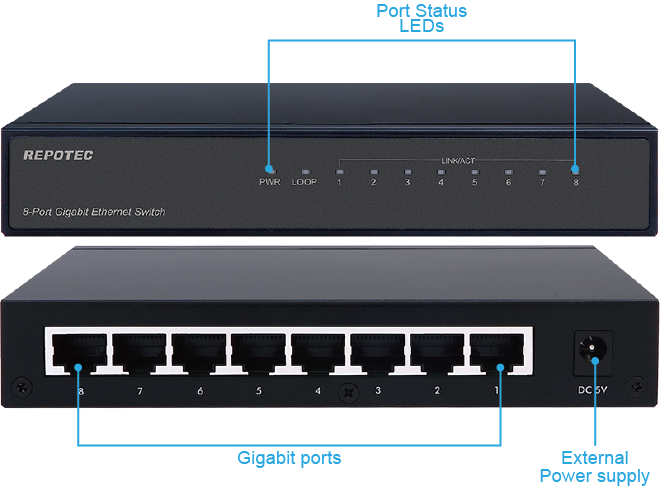 | | |
| --- | --- |
| RP-G3800Q | 8-P Gigabit Ethernet Switch with Loop Detection + QoS |