8-P Gigabit Ethernet Switch with Loop Detection + QoS
Wire-speed packet filtering and forwarding rate

Architectural filtering omits fragmented & CRC error packets

extensive LED indicators for network diagnostics

Loop Detection

802.1p QoS 4 priority queues

Green Ethernet (Link-On Cable Length Power Saving and Link-Down Power Saving)

IEEE802.3az Energy Efficient Ethernet
RP-G108Q is a high-performance Gigabit Ethernet switch with 8 10/100/1000 Mbps ports, providing real gigabit connections. It utilizes a non-blocking switching architecture for maximum throughput. The switch supports 802.3x flow control frames for full-duplex and optional back pressure for half-duplex, optimizing network performance.
Designed with network administrators in mind, the RP-G108Q includes a Loop Detection LED caution light and supports QoS with 4 priority queues for efficient resource usage. Its non-blocking architecture ensures dedicated 10/100/1000 Mbps connections, eliminating bandwidth congestion. The switch operates in a store-and-forward switching mode, minimizing latency and eliminating network errors.
The RP-G108Q offers half and full-duplex capability on all ports, boosting bandwidth for servers and power users. It is fully compliant with various network protocols and features front-panel diagnostic LEDs for easy monitoring. With its high-performance capabilities and comprehensive features, the RP-G108Q is the ideal choice for optimizing network performance and ensuring reliable connectivity.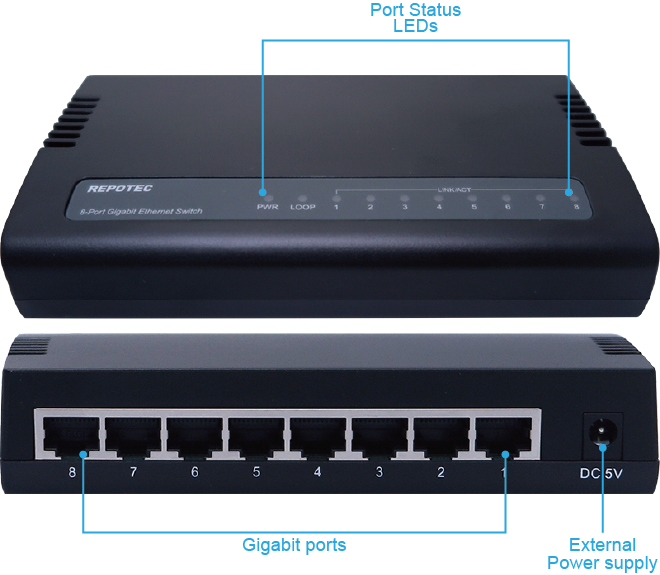 | | |
| --- | --- |
| RP-G108Q  | 8-P Gigabit Ethernet Switch with Loop Detection + QoS |