8-P Gigabit PoE + 2-10G SFP slot Ethernet Switch
Model: RP-PG0802X
Powerful data transmission via10G Uplink
802.3af/at Compliance
Total PoE power 110W.
Support Auto PD Detection
Secure, Swift PoE simplify connections.
10K Jumbo Packet support large packet
Secure network switch for reliable backbone
RP-PG0802X is a potent Gigabit PoE switch with 8 Gigabit PoE ports and 2 10G SFP+ ports, providing exceptional 10G uplink capability. This ensures high-speed data transmission over long distances, ideal for data-intensive applications. With a 56Gbps switching capacity and support for up to 10K jumbo frames, it efficiently handles substantial workloads, connecting securely to metro switches, backbones, and servers.
RP-PG0802X delivers 30W of PoE per port, adaptable to various applications. Its 110W total power consumption offers a cost-effective PoE+ solution for small businesses and enterprises. Ensuring swift, secure PoE connections enhances operational efficiency and network safety. With non-blocking wire-speed performance, it ensures seamless data flow, essential for high-capacity data transmission.
RP-PG0802X excels as a Gigabit PoE switch, combining 8 Gigabit PoE ports and 2 10G SFP+ ports for potent 10G uplink capabilities. Its robust internal capacity and jumbo frame management facilitate data-intensive tasks and secure connections. This switch accommodates a range of application needs, prioritizes operational efficiency, and guarantees seamless data transmission.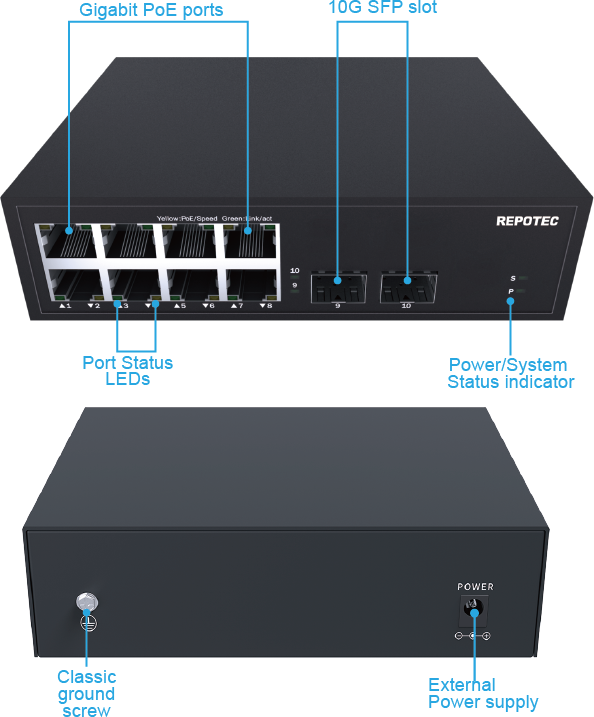 | | |
| --- | --- |
| RP-PG0802X | 8-P Gigabit PoE + 2-10G SFP slot Ethernet Switch (110W) |