14-Slot Media Converter Rack
Model: RP-MCR314
Centralized media conversion

Accommodates up to 14 converters

Simplified fiber-optic wiring

Streamlined maintenance

Hot-swappable capability

Easy upgrades and additions

Redundant power supply

Continuous power distribution

Efficient management solution
RP-MCR314 is a uniquely designed 19" rack chassis built to accommodate the RP-MC3xx series Media Converters, allowing the connectivity of up to 14 units of RP-MC3xx Fast Ethernet and Gigabit Ethernet Media Converters within a single enclosure. By consolidating the media converters, it simplifies the fiber-optic wiring structure and provides a centralized solution for media conversion, streamlining maintenance and management.
RP-MCR314 offers hot-swappable capability, allowing individual converters to be replaced or added without interrupting network connectivity. This flexibility enables easy upgrades or maintenance without affecting overall network operations.  RP-CR314features a redundant power supply system, ensuring continuous and reliable power distribution. In the event of a power supply failure or maintenance, the redundant power supply seamlessly takes over, eliminating downtime and service interruptions.
RP-MCR314 offers a convenient and efficient solution for consolidating and managing media converters. With its ability to accommodate multiple converters, hot-swappable functionality, and redundant power supply system, it simplifies maintenance, enhances reliability, and ensures uninterrupted network operations.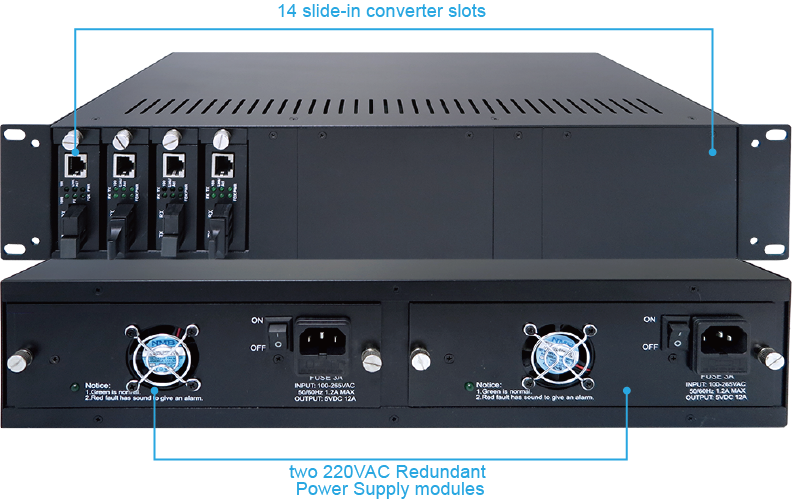 | | |
| --- | --- |
| RP-MCR314 | 14-Slot Media Converter Rack for RP-MC3xx series |
| MOD-314PSU | 220VAC Redundant Power Supply for RP-MCR314 |