16-P SFP(100/1G) + 8-SFP/TP combo + 4-SFP(1G/2.5G) L2+ Managed Switch
Model: RP-GS8320I-8GC
16-P SFP (100/1G), 8-SFP/TP, 4-SFP (1G/2.5G)
Layer 3 routing, DHCP server
Comprehensive QoS support
VLANs, security, rate control, port config
Various VLAN modes and classification
QinQ: port-based, VLAN-based, flow-based
Many-to-one port mirroring
STP, RSTP, MSTP, G.8032
IGMP snooping for multicast
Security: Dot1x, MAC auth, port security, IP guard
SNMP, web management, LLDP, syslog, RMON
RP-GS8320I-8GC is a Layer 2+ full gigabit managed switch which supports 16-P SFP (100/1G) + 8-SFP/TP combo + 4-SFP (1G/2.5G), providing high-density performance and Layer 3 static routing with a 68Gbps switching capacity.
RP-GS8320I-8GC offers comprehensive end-to-end QoS, as well as flexible and rich management and security settings through SNMP, HTTP, and Telnet interfaces. It supports many L2 switch management functions, such as 802.1Q VLAN, 802.1x Security, Rate Control, Port Configuration, Port Mirroring, Port Statistics, and QoS functions. These features can meet the high-speed, secure, and smart requirements of enterprise networks at a cost-effective price.
The powerful network security features also enable RP-GS8320I-8GC to perform effective data traffic control for ISP and enterprise VoIP, video streaming, and multicast applications.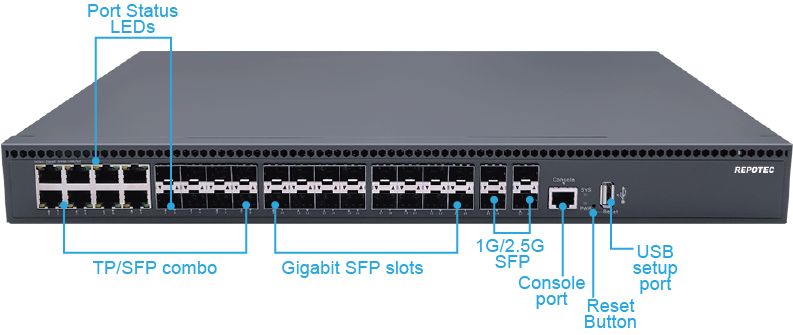 | | |
| --- | --- |
| RP-GS8320I-8GC | 16-P SFP(100/1G) + 8-SFP/TP combo + 4-SFP(1G/2.5G) L2+ Managed Switch |