16-P Gigabit + 8-TP/SFP(1G) combo + 4-SFP (1G/2.5G) slot L2+ Managed Switch
Model: RP-G83168I-4F
IPv4/IPv6 static routing, DHCP server
GE, 2.5GE port aggregation
Access, trunk, hybrid VLANs
Port-based, VLAN-based, QinQ
STP, RSTP, MSTP, ERPS
Multicast: IGMP snooping
SP, WRR QoS, rate-limiting
Dot1x, MAC, RADIUS authentication
LLDP, SNMP, web management
Firmware update, backups
RP-G83168I-4F is a powerful Layer 2+ gigabit managed switch, featuring 16 Gigabit Ethernet ports, 8 TP/SFP (1G) combo ports, and 4 SFP (1G/2.5G) slots. With a remarkable 68Gbps switching capacity, this switch excels in high-density performance, making it an ideal solution for enterprises. Its versatile port options provide flexibility for various networking needs, catering to modern business demands.
Equipped with comprehensive end-to-end Quality of Service (QoS) and flexible management capabilities, RP-G83168I-4F meets the requirements for high-speed, secure, and smart networking scenarios. It empowers administrators to prioritize critical data and applications, ensuring smooth data delivery even during peak network traffic. The switch's powerful security features enhance data protection and enable effective data traffic control, making it suitable for ISP and enterprise applications like VoIP, video streaming, and multicast.
RP-G83168I-4F stands out with its Layer 2+ capabilities, offering efficient data handling and optimal network performance. Administrators benefit from its rich management features, allowing them to customize the network according to their specific needs. The cost-effective design and high-density performance make RP-G83168I-4F a reliable choice for modern enterprise networks. Its ability to support diverse applications and adapt to evolving networking needs makes it an invaluable asset for businesses seeking a seamless and future-proof networking solution.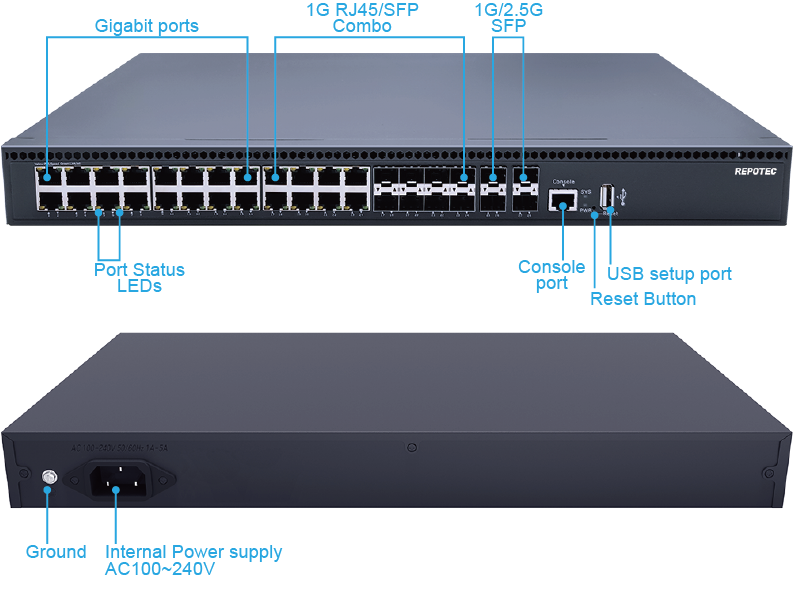 | | |
| --- | --- |
| RP-G83168I-4F | 16-P Gigabit + 8-TP/SFP(1G) + 4-SFP (1G/2.5G) slot L2+ Managed Switch |