24-P Gigabit + 4-SFP (1G/2.5G/10G) slot L2+ Managed Switch
Model: RP-G83240IX-4F
IPv4/IPv6 routing, DHCP support
GE ports, 2.5GE aggregation
Access/trunk/hybrid VLANs
Port/VLAN/flow-based QinQ
Many-to-one port mirroring
STP, RSTP, MSTP, G.8032 ERPS
IGMP snooping for multicast
QoS: SP, WRR, rate-limiting
Dot1x, port/MAC authentication
LLDP, user/login authentication
SNMP, web management
Firmware update, backup/restore
RP-G83240IX-4F, a versatile Layer 2+ managed Gigabit switch designed for enterprise networks. With 24 gigabit PoE ports and 4 *1G/2.5G/10G SFP slots, this switch delivers full Gigabit access and impressive scalability, achieving exceptional 10G performance. It supports Layer 3 static routing and offers a switching capacity of 128 Gbps.
The RP-G83240IX-4F meets the needs of modern networks, providing comprehensive QoS capabilities, flexible management, and robust security features at a cost-effective price. It ensures high-speed, secure, and intelligent networking for enterprises. The switch offers advanced protocols, VLAN classification options, port mirroring, layer 2 ring network protocols, multicast support, and comprehensive QoS features.
With support for LLDP, user management, SNMP, web management, firmware updates, and utilities like Ping and Tracert, the RP-G83240IX-4F simplifies network monitoring and maintenance. It empowers enterprises with reliable performance and efficient network operations.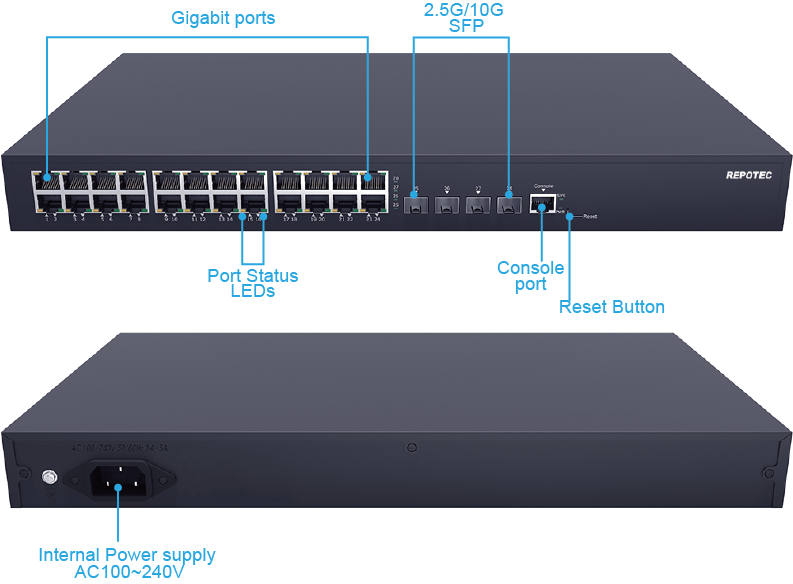 | | |
| --- | --- |
| RP-G83240IX-4F | 24-P Gigabit + 4-SFP (1G/2.5G/10G) slot L2+ Managed Switch |