30W Industrial Gigabit PoE+ Injector
Model: RP-IPJ811-12V
One 10/100/1000 Data Port for Switch connection
One 10/100/1000 PoE Port for PD connection
Built-in hardened POE Controller
Supports 802.3af /802.3at PoE Power
Support wide range12~56VDC redundant power
Reverse polarity protection
Overload current protection
IP30 Rugged Aluminum housing design
Working in extreme environment -40 to +75°C
RP-IPJ811-12V Industrial Gigabit PoE+ Injector is a versatile solution that brings a substantial PoE power budget of up to 30W. Notably, this injector provides a wide power input voltage range spanning from +12 to +56Vdc. This feature not only amplifies the input voltage but also minimizes excessive heat generation, effectively addressing heat-related concerns. Furthermore, the extended voltage range ensures equipment protection against unregulated voltage, making systems more secure and reliable. The RP-IPJ811-12V's intelligent design aims to enhance performance while reducing potential risks.
This injector is exceptionally well-suited for a range of applications, including the deployment of IP surveillance and traffic monitoring solutions. It has been subjected to rigorous testing, specifically catering to the needs of Security, Transportation, and Telco applications. These demanding environments require robust equipment, and the RP-IPJ811-12V is engineered to perform reliably across a wide temperature range from -40°C to 75°C. This resilience makes it a trustworthy choice for scenarios where consistent operation under climatic challenges is essential.
RP-IPJ811-12V's versatility extends to its installation options. With an IP-30 standard industrial case protection, it supports both DIN rail and wall mounting. This adaptability ensures efficient utilization of cabinet space, an essential consideration in many industrial setups. By offering flexible installation methods, the RP-IPJ811-12V caters to the diverse needs of network administrators and installers, streamlining deployment and cable management. Its thoughtful design and robust performance make it a valuable asset for various industrial applications.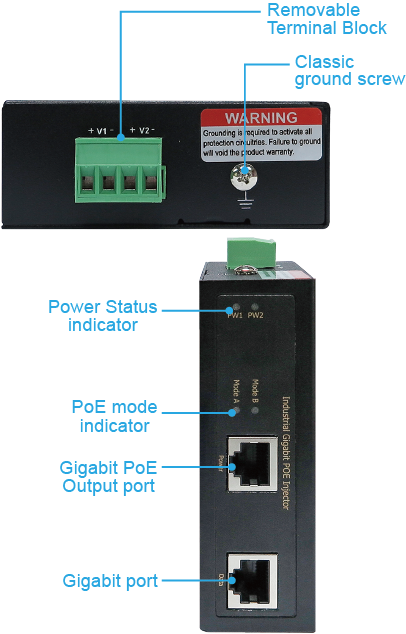 | | |
| --- | --- |
| RP-IPJ811-12V | 30W Industrial Gigabit PoE+ Injector, 12-56VDC |