24-P Gigabit + 4-SFP (1G/2.5G) slot L2+ Managed PoE Switch
Model: RP-PG83240I-4F
IPv4/IPv6 routing, DHCP server
GE ports, 2.5GE aggregation
Access/trunk/hybrid VLANs
Port/VLAN/flow QinQ
STP/RSTP/MSTP/G.8032 ERPS
IGMP snooping multicast
QoS, SP/WRR scheduling
Dot1x, port/mac authentication
LLDP, SNMP, web management
Firmware update, config backup
The RP-PG83240I-4F is a Layer 2 switch designed for enterprise networks. It offers 24 gigabit PoE ports and 4 1G/2.5G SFP slots, providing flexible connectivity options. With a PoE power budget of up to 400W, it can reliably power connected devices. The switch has a switching capacity of 56Gbps, ensuring efficient data transmission and high-performance networking.
This switch is equipped with comprehensive end-to-end Quality of Service (QoS) capabilities, allowing for effective prioritization of network traffic. It also offers flexible management options and advanced security settings, making it well-suited for networks that require high-speed, secure, and intelligent solutions at an affordable price. With its powerful network security features, it enables effective control of data traffic for Internet Service Providers (ISPs) and supports applications such as VoIP, video streaming, and multicast services.
In addition to its networking capabilities, the RP-PG83240I-4F has a maximum power consumption of 400W, making it a reliable power solution for SMBs deploying Power over Ethernet (PoE) networks. RP-PG83240I-4F combines performance, QoS capabilities, security features, and power efficiency to meet the networking needs of enterprises.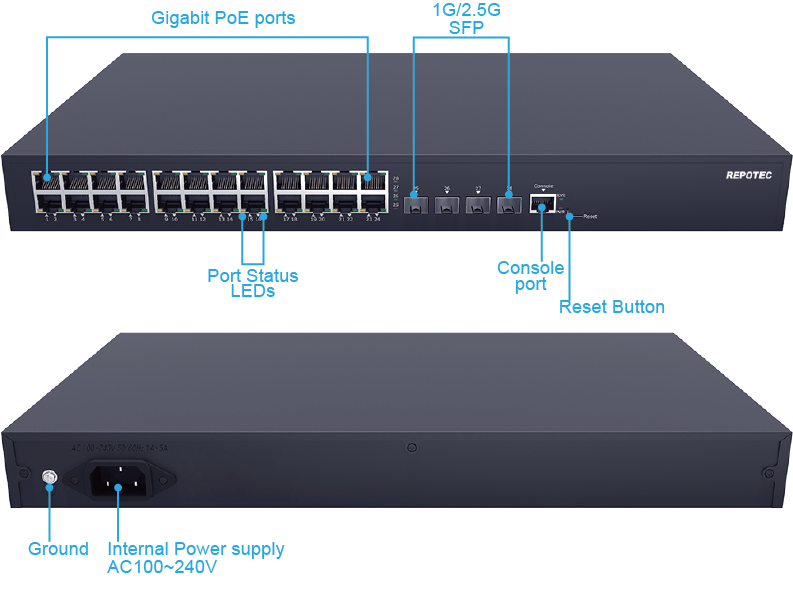 | | |
| --- | --- |
| RP-PG83240I-4F | 24-P Gigabit + 4-SFP(1G/2.5G) slot L2+ Managed PoE Switch (400W) |