8-P Gigabit 802.3at PoE + 2-1000M SFP Industrial Gigabit Flat type Switch
Model: RP-IPG808-2F
Front access to ports, indicators, and power interfaces
IEEE 802.3at PoE, 30W/port
48-56VDC Redundancy
2M Memory Buffer
11K MAC Address table
Power Polarity Reverse Protect
Overload Current Re-settable Fuse Present
2KV surge protector for Data / PoE port
RP-IPG808-2F Industrial 8-port Gigabit PoE Flat Switch is a high-performance solution built for demanding applications. It boasts 8 PSE ports, each capable of delivering a substantial 30 watts of power, resulting in a robust total power output of 240 watts for PD devices. Specifically designed for IP surveillance and traffic monitoring, this switch addresses a wide range of requirements across various applications. It offers redundant dual DC power input with a voltage range of 48V to 56V, ensuring continuous and reliable operation in challenging environments.
With its user-friendly design, the RP-IPG808-2F streamlines installation and maintenance for technicians. Front access to ports, indicators, and power interfaces simplifies the setup, cable management, LED monitoring, and routine upkeep, providing significant convenience. The switch's unique flat and wall-mounted cabinet design enhances its adaptability, allowing it to fit seamlessly in space-limited locations, such as shallow cabinets or small enclosures. This design versatility ensures that the switch can be conveniently positioned based on specific installation needs.
RP-IPG808-2F exhibits industrial-hardened construction, capable of withstanding significant vibrations and shocks. Operating efficiently within a wide temperature range from -40°C to 75°C, it excels even in harsh environments. The switch offers flexible installation options, whether via DIN rail or wall mounting, allowing users to tailor its placement according to the environment's demands. With its substantial power delivery, wide operating temperature tolerance, and adaptable installation, the RP-IPG808-2F proves itself as a reliable, versatile solution, ideal for powering and connecting devices in challenging industrial scenarios.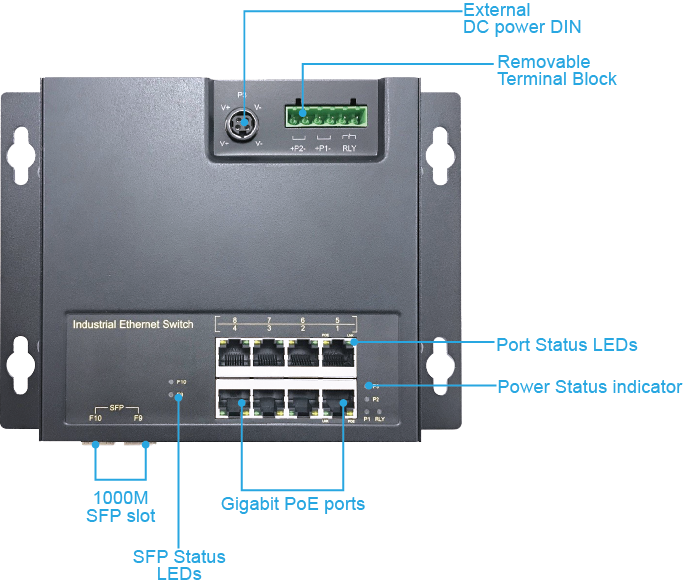 | | |
| --- | --- |
| RP-IPG808-2F | 8-P Gigabit+ 2 SFP slot Industrial PoE+ Flat Switch (240W) |