16-P SFP(100/1G) + 8-SFP/TP combo + 4-SFP(1G/2.5G/10G) L3 Managed Industrial Ethernet Switch
Model: RP-IGS65168IX-4FR
Ports: 16x 100/1000Base-X SFP, 8x 1000Base Combo, 4x 1G/2.5/10GBase-X SFP+

AC/DC Redundant Power

Easy Config: USB

VLAN, ERPS, STP/RSTP/MSTP, Link aggregation, IGMP snooping

IPv4/IPv6, Web/SNMP/CLI/Telnet/SSH, Logs

G.

8032 ERPS, Fast Recovery ≤20ms

Surge and ESD protection: Air-15kV, Contact-8kV
RP-IGS65168IX-4F is a highly reliable Layer 3 managed industrial fiber switch designed for robust performance. Featuring 16-port 100/1000Base-X SFP, 8-port 1000Base Combo, and 4-port 10G Base-X SFP+, it excels in transferring large volumes of video, voice, and data across industrial networks. With support for G.8032 ERPS, MSTP/RSTP/STP redundancy technologies, and Layer 3 routing, it's ideal for large-scale industrial setups.
In addition to its impressive capabilities, the RP-IGS65168IX-4F is a cost-effective and user-friendly device. It offers essential industrial Ethernet networking features, including wide voltage input options, redundant power design (AC, DC, or AC/DC), and a rugged IP40 fan-less housing suitable for rack-mount installation. With a wide operating temperature range of -40°C to 80°C and high EMI/EMC capability, it's the top choice for harsh environments in industries like transportation, oil & gas, chemical, IP surveillance, and automation.
RP-IGS65168IX-4F stands out as the best solution for heavy industrial factories and critical applications. Its combination of reliability, performance, and environmental resilience makes it an indispensable component in industrial networks where dependable connectivity is essential for success.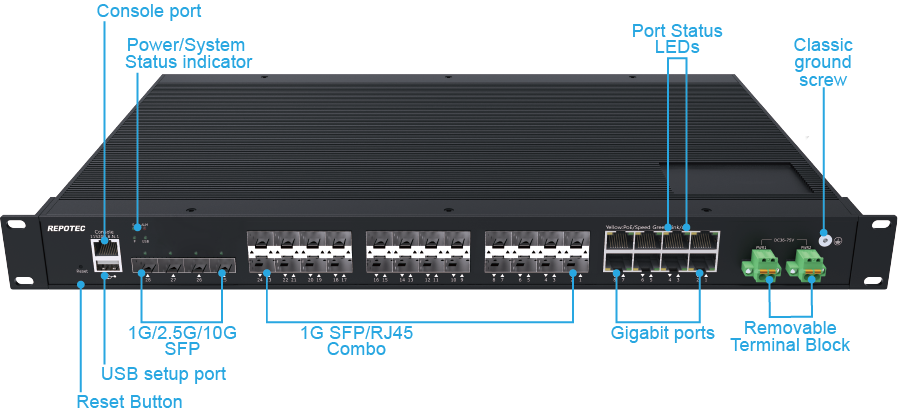 | | |
| --- | --- |
| RP-IGS65168IX-4FR-2AC | 16-P SFP(100/1G) + 8-SFP/TP combo + 4-SFP(1G/2.5G/10G) L3 Managed Industrial Ethernet Switch, Dual AC 100-240V 50/60Hz input |
| RP-IGS65168IX-4FR-AC/DC | 16-P SFP(100/1G) + 8-SFP/TP combo + 4-SFP(1G/2.5G/10G) L3 Managed Industrial Ethernet Switch, AC 100-240V 50/60Hz and DC 36-75Vinput |
| RP-IGS65168IX-4FR-2DC | 16-P SFP(100/1G) + 8-SFP/TP combo + 4-SFP(1G/2.5G/10G) L3 Managed Industrial Ethernet Switch, Dual DC 36-75V input |