16-P Fast Ethernet Switch
With Auto-negotiation function
Full "Store-and-Forward" eliminates bad packets
Filtering/Forwarding Rate: 148,800 packets/sec.
IEEE 802.3x Flow Control support for Full Duplex
Back-Pressure support for Half Duplex operation
IEEE 802.3u and 802.3 standards comply
Plug-n-Play with easy to read diagnostic LEDs
Auto MDI-X detects and corrects crossover cables
Support Green Ethernet
Supports IEEE802.3az Energy Efficient Ethernet
With 19" rack-mounted kits
RP-1716DR2/L is a high-performance device designed to enhance workgroup performance. It supports 10/100MbpsAuto-Negotiation for optimal speed detection through RJ-45 copper interfaces. The device automatically identifies and determines the correct transmission speed, as well as half/full duplex mode, making it versatile and adaptable.
The installation of RP-1716DR2/L are seamless and hassle-free. It offers plug-and-play functionality and comprehensive compatibility with various network protocols. From runt to CRC error packets, this device handles all kinds of network protocols, providing ease of use and fast network setup. Its user-friendly design allows for efficient installation and network management, saving time and effort.
With its micro-segmentation capabilities, RP-1716DR2/L is perfect for optimizing network performance. By dividing large networks into smaller, connected subnets, it enables improved performance for bandwidth-demanding multimedia and imaging applications. This device ensures that these demanding tasks are handled smoothly and efficiently, providing the necessary bandwidth and resources for seamless operation.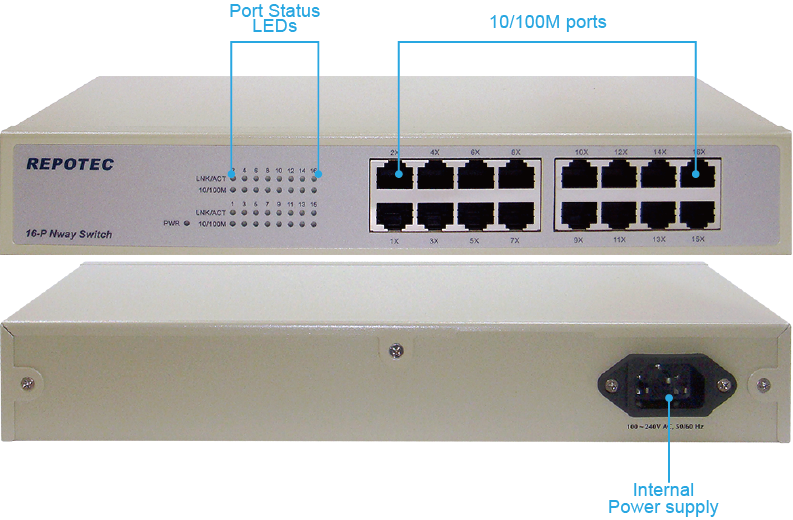 | | |
| --- | --- |
| RP-1716DR2 | 16-P Fast Ethernet Switch (Desk Top) |