Solar & PoE Battery Charger
Model: RP-SP112C
Dual Input, from solar panel and/or PoE (Solar First) to charge 12V battery, and another two outputs: PoE output on front and/or terminal block on rear

Built-in DC/DC converter, with various passive PoE output, 24V, 48V, 56V available.

Active PoE Output support 802.3at handshake (RP-SP112C-56DB, RP-SP112C-56DA)

DIN Rail Mountable

Support Gigabit Ethernet
RP-SP112C Solar & PoE Battery Charger equips dual input sources to charge batteries, the first is via solar panels and secondary PoE source in order to provide redundancy and insure 100% uptime for critical applications. The solar panel input takes priority, when receive sunshine, the power usage would be minimized.
RP-SP112C has a built in PoE inserter with DC to DC converter that delivers optional PoE power 24V, 48V, 56V. The device supports full electronic protections for short circuit, reverse current, overvoltage, over charge and over discharge.
RP-SP112C helps users to monitor the current status easily and efficiently by its advanced LED indication. The 5 LEDs Indicate: current is being supplied by a POE source or solar panel, battery is charging, load output is turned on and a warning if battery is connected with reverse polarity.
Solar and Battery Connections are via terminal block for wire size up to 12AWG. PoE Input and Output is via RJ45 shielded connectors. There is a secondary output connector on the back side with terminals for connecting other electronics to the controller using up to 12AWG wire. This secondary output is equal to the battery voltage.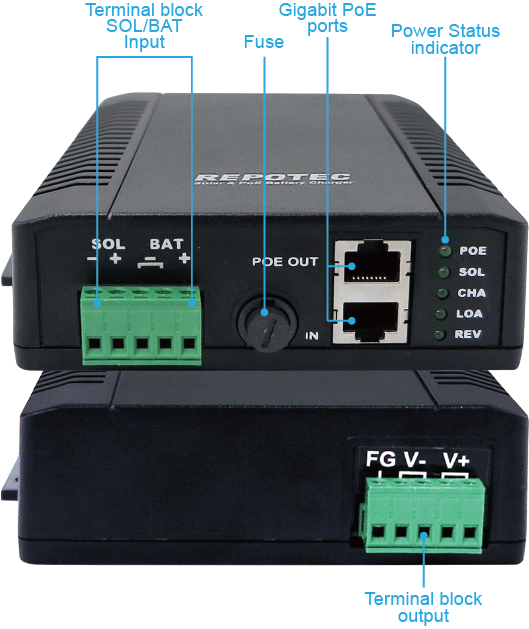 | | |
| --- | --- |
| RP-SP112C-24B | Solar & PoE Battery Charger with 24V passive PoE output (Mid-Span mode B) |
| RP-SP112C-48A | Solar & PoE Battery Charger with 48V passive PoE output (Mid-Span mode A) |
| RP-SP112C-48B | Solar & PoE Battery Charger with 48V passive PoE output (Mid-Span mode B) |
| RP-SP112C-56DA | Solar & PoE Battery Charger with 56V 802.3at PoE output (Mid-Span mode A) |
| RP-SP112C-56DB | Solar & PoE Battery Charger with 56V 802.3at PoE output (Mid-Span mode B) |