802.3af/at to passive PoE Converter, 12V/24V Switchable
Dual Voltage Output: 12V/24V flexibility.
Wide Input Range: DC40V to DC60V compatibility.
Efficient Conversion: 80% efficiency for optimal transfer.
Under Voltage Lockout: Stability below DC 32V.
Short Circuit Protection: Safeguard with auto-reset.
LED Indicators: Green for 802.3at, red for 802.3af.
RP-PGC1224 serves as a flexible 802.3at to passive Gigabit PoE Converter, drawing power from an IEEE 802.3af/at PoE switch or injector and delivering it to the remote device through a passive PoE port.
Equipped with the capability to switch between 12V and 24V output voltages, RP-PGC1224 offers flexibility to accommodate various power requirements. The converter incorporates short circuit protection, ensuring that the output short GND terminal will not damage the power supply, and it features an auto-reset function for added convenience. RP-PGC1224 is user-friendly with LED indicators. The LED Green Indicates that the input supply is 802.3at while the red LED Indicates that the input supply is 802.3af or DC IN, providing clear visual cues about the converter's operational mode.
With these features, RP-PGC1224 presents a cost-effective and efficient solution for upgrading network systems to a PoE configuration, making it an ideal choice for businesses seeking to enhance their infrastructure without the need for a complete switch replacement.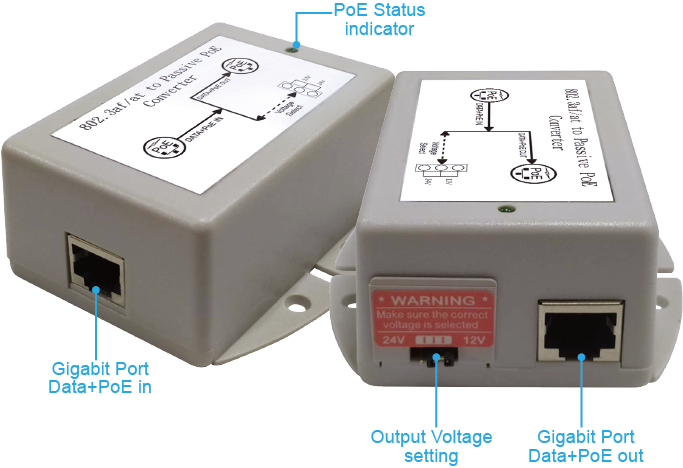 | | |
| --- | --- |
| RP-PGC1224 | 802.3af/at to passive PoE Converter, 12V/24V Switchable |